2 Comments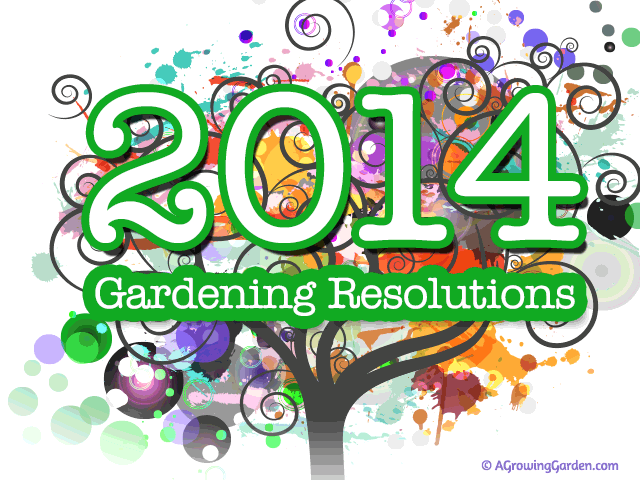 I'm not really big on keeping New Year's resolutions. Are you? (Is anyone?)
So, this year I've decided to set goals -- not resolutions. After all, resolutions are easily broken. Goals, on the other hand, are serious stuff. You don't "break" a goal - you either succeed or you FAIL (and get a big, fat F!).
Oh yes, goals are much more serious.
Of course, the start of the new year is a good time to set goals for the upcoming year. And since everyone and their brother is talking "resolutions" right now, it's hard NOT to give some thought to how the upcoming year can be better from the last one. I've been doing just that and I'm setting some goals and trying to inspire myself to make the upcoming year a better one.
And that includes my gardens.
So, I've been thinking lately about how I can make my gardens better, more successful, and more beautiful. I'd like to try some new things too and make the whole process more streamlined and efficient. After all, I'd like to spend more time actually enjoying the garden than working in it!
So, here are my initial 2014 gardening goals:
Start seeds on time.
I'm pretty good about this, but we can all use a little help with planning from time to time. Since I pretty much start everything I grow from seed, this is crucial. My goal this year is to spend some extra time really planning exactly what I want to grow and to start everything on time.
EVERYTHING! And that means not starting things too late, but also not starting things to early.
I also want to be sure to start extras of everything too ... after the flooding last year in early summer when we lost a lot of plants, I came to realize the importance of having some extra plants on hand -- just in case. You never know what might happen.
Weed Every Day
This one is pretty self explanatory, but it is also probably my most important goal. Getting the weeds under control was my main gardening goal last year and, for the first time, we were (finally!) able to keep the weeds in the vegetable garden from taking over. This year, I want to extend that approach to all of our beds. My goal is to spend some time every single day weeding somewhere-- even if it's just for a few minutes.
You know, "Pulling a weed in time saves nine." :-)
Take Better Care of My Gardening Tools
Gardening is all about the plants and the poor tools are often neglected ... at least mine are! This year, I want to take better care of all of my gardening tools so that they'll take better care of me and the garden. No more leaving shovels, rakes, hoes and other essential tools out in the rain or baking in the sun. I also want to try to clean them off and oil and sharpen them regularly.
Plant More Native Plants
We have a large property and have the ability to have a lot of different gardens. This year, I'd like to create a "wildflower" garden with native plants and grasses. Once established, native plants are low maintenance, save water, and attract wildlife. Doesn't that sound like a good thing? I can just hear the flock of birds that will be living in my new wildflower garden chirping now!
Create a Cutting Garden
For years now, I've wanted to create a cutting garden, but I've never gotten around to it. A cutting garden is a flower garden that you plant just to take cuttings from -- so you can have fresh flowers in your house without having to cut back on your display beds. This year, I plan to dedicate a row or 2 (or 3?) in the vegetable garden just for flowers. That way, the flowers will not only attract more beneficial insects to the garden and make the veggie garden more visually pleasing, but it will also provide me tons and tons of fresh flowers for the house.
Keep a Garden Journal
Finally, this year, I really want to better document the gardens. In particular, I want to document when and how seeds and cuttings were started, what was planted where, what worked & what didn't, when I noticed pests & problems, and what, how much and when plants were harvested.
Dec 30 2013
More Articles You Might Like