Comment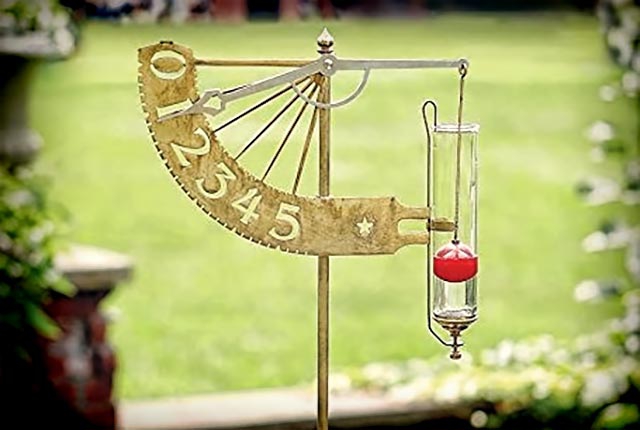 Every gardener needs a rain gauge and WOW, do I ever love this one!
Yes, it's a bit pricey, but is it ever beautiful! I imagine that it would be a real conversation piece too. I'll admit that I do not own this (yet!), but I think it would be a fantastic gift for any gardener who likes unique, artistic pieces in their garden.
Here's the scoop on this utterly fantastic looking rain gauge according to the product description:
"Inspired by Thomas Jefferson's notable prowess for mechanical invention, this Brass Jeffersonian Rain Gauge is sure to catch the eye of guests and visitors. This extraordinary outdoor rain gauge is functional while offering an artistic accent to a favorite garden retreat. Cast in solid brass, glass and stainless steel, this durable weather instrument will provide a lifetime of service and intrigue. It uses a mechanical float and lever design to measure up to 5" of rain in 1/5" increments. The attractive dial face has large numerals for easy reading at a distance. This rain gauge will also turn into the wind to ensure the most accurate measurement or it may be tightened down to a fixed location."
I'm pretty sure I need one of these! If you do too (or know someone who does), you can get more information about the Jeffersonian Brass Rain Gauge (and buy it!) here >>
Photos from Amazon.com
Dec 06 2014
More Articles You Might Like