1 Comment
Hi, my name is Caryl and I'm addicted to gardening.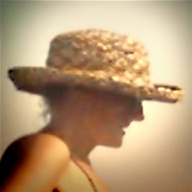 I grew up in a small town in south central Pennsylvania. As a child, I spent quite a bit of time each summer at my grandparent's house in central PA. They had a huge vegetable garden and grew everything they could think of—from the smallest of radishes to the largest of pumpkins. They also grew countless cherries, strawberries, grapes, currants, raspberries and other fruits. During my summer vacations, I spent a lot of time with them in their gardens. I had my very own "picking pail" and spent hours with my grandmother on the back porch shelling peas and beans. My grandfather also had bees and we were never without fresh honey. My grandmother had extensive flower beds all around the house and many an admirer would stop to smell the roses and other perennials and annuals she had planted there and comment on the beauty of her flowers and yard as they walked by.
My grandparents were obsessed with gardening, and so am I.
I haven't, however, always had this obsession. As a teenager growing up in a very small town, I dreamed of living a glamorous life in a big city. I went away to college in the city and I spent many years as a city dweller living in apartments and condos where space for growing plants was limited. When I got married, my husband and I lived on a beautiful two acre lot in the Washington DC suburbs. We had hundreds of large, beautiful azaleas and rhododendrons. However, our property was heavily wooded, park-like and so overly shady that only truly shade loving plants would grow—even those designated as "part shade" would either become spindly and not flower, or would simply wither and die. I tried to grow lots of different plants there (even tomotoes—what was I thinking?), but between the shade, the deer, and the squirrels and chipmunks, had little success. I did grow some great hosta, astilbe, and other shade loving plants and, of course, the azaleas were magnificent in the spring, but otherwise, I had more gardening failures there than successes.
We left the hectic and congested life in our shady suburban property and moved to a little slice of rural heaven in south eastern Virginia. We traded the noise of the Capital Beltway for the calls of bob whites, woodpeckers, swans, osprey, and other birds and critters and never looked back.
We now live on a small, waterfront farmette in the Chesapeake Bay area of Virginia and try to grow as many different plants as possible in our sunny zone 7b/8a gardens. I invite you to follow along with us as we work to grow sustainable and successful gardens and, in doing so, I hope you can gain some insight from our triumphs as well as our (many!) gardening mistakes.
Although my main focus here on AGrowingGarden.com is gardening, I also love to cook and bake and spend much of my free time creating art and photographing my world. Unless otherwise noted, the photographs used throughout the posts on AGrowingGarden.com are my original works and may be available for licensing - please ask if interested!
Happy Gardening!

ps. I'm coming a little late to the blogging party, but better late than never, right? I hope you'll stick around!