Comment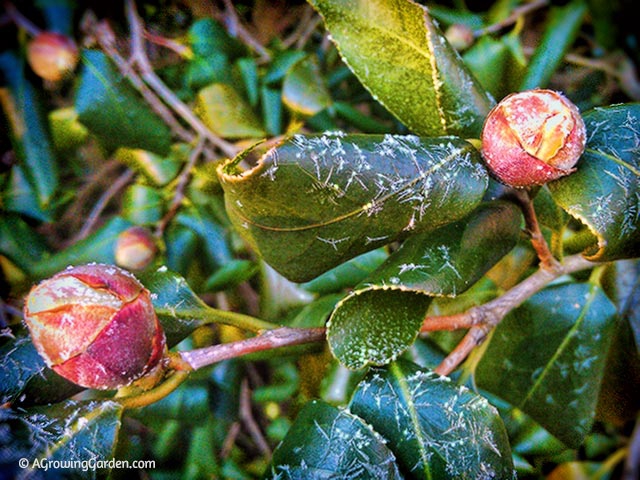 We currently have just one camellia in our garden. It was here when we bought the house, so I don't know the variety, but it's quite big -- about 8 feet tall, and healthy. And, it has beautiful pink flowers. My favorite.
There are a few hundred different varieties of camellias and, although native to eastern Asia, camellias can be easily grown in the US in zones 7 through 9. I don't think enough gardeners grow camellias, but they really should! They are easy to grow, bloom profusely, and are relatively maintenance free. And, although many people tend to think of camellias as "southern" shrubs, and I guess that's true, there are more and more cold hardy varieties being introduced each year.
I am a bit worried about our lone camellia right now though ... it just isn't used to this super cold weather. I snapped the photo above of some of the flower buds on our camellia this morning on my walk with Renard. It's planted on the north side of our house and we don't do anything to protect it in the winter. I'm wondering if I should have given it some additional protection when I heard about the cold weather coming? Although it isn't covered in ice like many of the plants up north probably are, 10 degrees just can't be good for a good old southern shrub!
I'd really like to have more camellias here, but like so many things in my life, I just haven't gotten around to it (SIGH). I should have! Back in the 1970's, the US had a few abnormally cold winters and the US Arboretum lost most of the camellias in their collection. Hundreds and hundreds of camellias lost! So, I'm really hoping that our lone camellia will survive this crazy cold. I've resolved that, if our camellia makes it through this nasty winter with flying colors, I'll try to propagate it.
Fingers crossed!
Jan 08 2014
More Articles You Might Like