Comment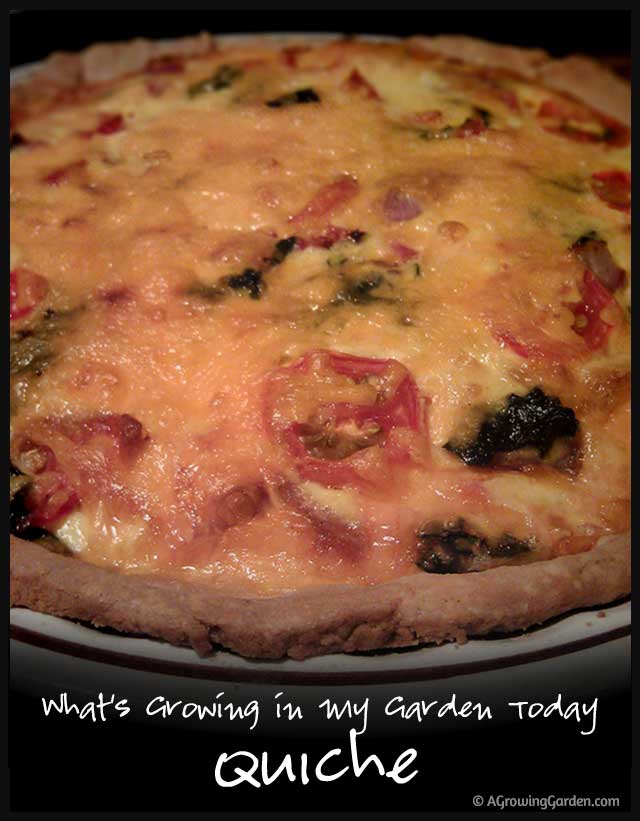 I don't care what anyone says, Quiche is good stuff.
So good, in fact, that it should be included in everyone's cooking arsenal ... especially when you are lucky enough to be harvesting so much food from your garden that you don't know what to do with it all.
Garden harvests make great quiche.
On days when you are raking in the fresh veggies, it's a really great idea to whip up some "What's Growing in My Garden Today Quiche." I did that today and our dinner was fantastic.
When it comes to quiche, I'm all about the crust. As a matter of fact, I can't even say "light, flaky, buttery, golden crust" without my mouth starting to water, so I would HIGHLY SUGGEST making your quiche with a crust. (I really can't understand why anyone in their right mind would ever think of making a crust-less quiche, but if that floats your boat, so be it.)
That said, the idea behind this type of quiche is that you can pretty much put whatever you want into it ... whatever is growing in your garden. Quiche is so easy that it's hard to go wrong. Peppers, asparagus, eggplant, onions, greens, tomatoes, zucchini ... you name it and it will probably work. The key to making it work is not overloading the quiche with too much "stuff" and adding some meat (ham and bacon always work great in quiche) and/or lots of cheese.
My "What's Growing in My Garden Today Quiche" today included red onion, swiss chard, and cherry tomatoes along with some ham, cheese, and, of course, eggs.
Here's how I made it:
July 29 What's Growing in My Garden Today Quiche Recipe
Preheat oven to 350 degrees
Crust*
2 c flour
1 tsp salt
2/3 c shortening
4-6 Tbsp very cold water
Sift together the flour and salt.
Cut 1/3 c shortening into the flour mixture and mix with a fork until it resembles course meal.
Cut 1/3 c shortening into the flour mixture and mix with a fork until it is the size of small peas.
Sprinkle the water into the mixture, lifting it into the crust with a fork.
Form the dough into a flattened ball. Cover and refrigerate for 30 minutes.
After 30 minutes, remove from refrigerator, divide in two, and roll half of the dough into a circle large enough to fit your baking dish (I use a pie plate). Wrap the other half in plastic wrap and either refrigerate or freeze for later use.
*It is important to NOT overwork the pie dough when mixing or rolling.
Quiche Filling
1 tablespoon of butter
4 or 5 cloves of garlic
1 medium red onion
2 cups of swiss chard greens, cut into strips
A handful of cherry tomatoes
4 large eggs
3/4 cup of half and half
1 cup cooked ham
1 cup of shredded cheddar cheese**
Chop garlic and onion and place in skillet along with the butter and cook on medium heat until the onion becomes translucent. While the onions are cooking, wash and dry the swiss chard. Remove the stems and cut the greens into thin strips. Slice the tomatoes. Add greens and tomatoes to the skillet with the onions and continue to cook until the greens wilt. Remove from heat and set aside.
Place the eggs into a medium sized bowl and whip lightly. Add the half and half and combine with the eggs. Mix in the ham and 1/2 cup of the cheese.
Place your crust into the bottom of your pie plate and crimp the edges. Add half of the greens mixture on top of the crust. Pour the egg mixture evenly over the greens. Add the remaining half of the greens mixture on top and sprinkle the remaining cheese on top of the greens.
Bake in a preheated oven at 350 degrees for about 45 minutes. When finished, the top should be golden brown and the filling should be firm and set -- not the least bit runny!
Remove from oven and allow to cool for 5-10 minutes (if you can wait that long!) before serving.
Enjoy!!
**Note, I would've preferred to have used swiss cheese in this quiche, but apparently someone ate all of it, so I had to resort to cheddar cheese (which was also good!)
Jul 30 2013
More Articles You Might Like