2 Comments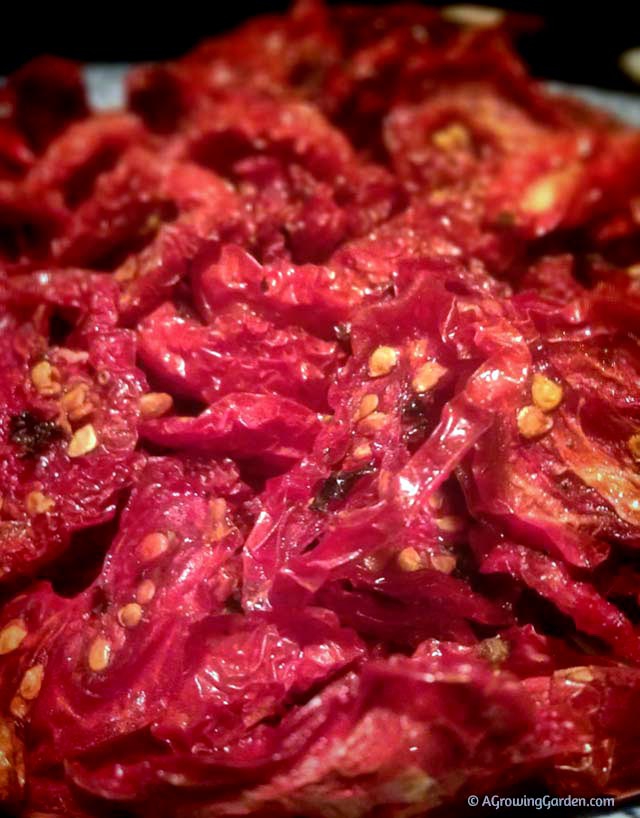 We've had a really late season for tomatoes this year. Normally. we are rolling in tomatoes in August and September, but this year we've gotten most of our tomato harvest in late September and now into October. Weird.
Luckily, the tomatoes are still coming in strong, so, my counters are full of fresh tomatoes right this very minute.
Yea!
I've been making and canning tomatoes, sauce, and salsa off and on for the last few weeks, but yesterday I decided to "sun dry" some of our cherry tomatoes (OK, yes, technically I mean dehydrate ... After all, it has been raining here all week and I haven't seen the sun for days. I just prefer the term "sun dried" to "dehydrated" -- it just sounds nicer!).
I think that "Sun dried" tomatoes are fabulous in so many dishes, but they also tend to be pricey, so I make my own to keep some on hand throughout the winter. No-brainer, right?
"Sun Drying" Tomatoes
Over the years I've tried various ways to dry tomatoes ... in the oven (too hot to do in the summer and fall), outside on screens (I prefer my food without bugs, thank you very much), and even in my car (there was just way too much wrong with this method that I wouldn't know where to start to describe why it didn't work for me).
Eventually, I bought a food dehydrator (insert chorus of angels singing here).
Really, in my opinion, a dehydrator is the only way to go. It's easy, it's often a lot faster, and you won't be picking bugs out of your food until the end of time.
My dehydrator isn't fancy. As a matter of fact, it was pretty darn cheap, but it does the job. If you're thinking about getting a dehydrator, Amazon.com has a bunch of great ones for sale. Keep in mind that if you are going to be doing a lot of drying, or want to dehydrate food in really, really large batches, you'll probably want to invest in a larger, fancier one, but a simple one should work just fine for tomatoes.
Anyway, yesterday I pulled out my handy dandy dehydrator and got to work drying some tomatoes.
The process is super easy. Here's how I did it ....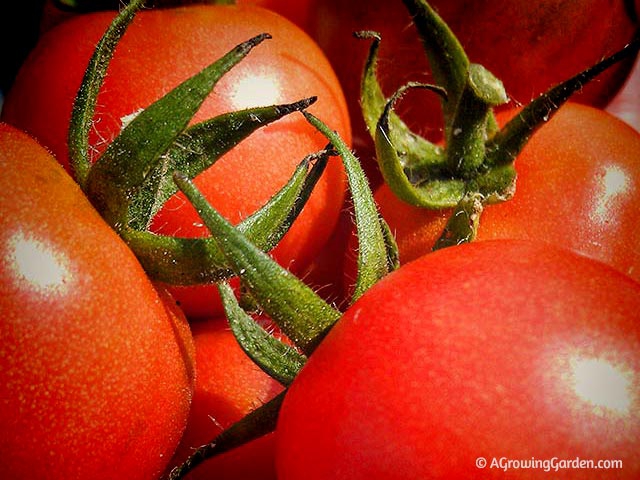 I started with cherry tomatoes.
Why, you ask? Well, cherry tomatoes are usually very abundant and, since the fruit are all about the same size, it's easy to cut them into equal sized pieces. (When cutting up food for dehydrating, it's best to have it in pieces of equal size so that they all dry in about the same amount of time.)
I washed the tomatoes, removed any stems, cut them in half and tossed them into a large bowl. I drizzled 2 tablespoons of olive oil over the tomatoes and sprinkled 1 tablespoon of garlic powder, 1 tablespoon of basil, 1 teaspoon of sea salt over the tomatoes and gave them a stir.
Then, I arranged them on the trays of my dehydrator. I've found it best to place them cut side up and it's always a good idea for the tomato pieces to not touch each other in the dehydrator ... this allows for better air flow.
In my photo below, the tomatoes are too close ... after I got all of the tomatoes onto the screens, I re-arranged them a bit to fit better and I forgot to take a photo ...duh! Oh, and by the way, the dark spots you see on the tomatoes are pieces of BASIL, not black spots in the tomatoes!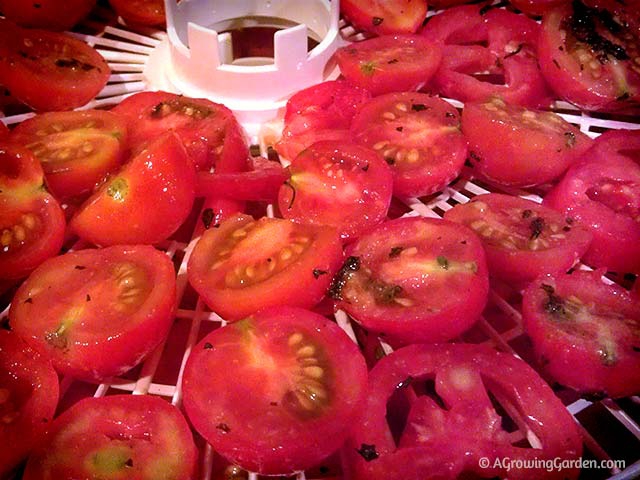 Anyway, I dried the tomatoes for about 12 hours at the 135 degree setting on my dehydrator. I checked on them periodically throughout the day to make sure the little babies were ok and I rotated the trays during the dehydrating process too.
For different batches, it might not take that long, or it might take longer - you have to use your judgement to determine when they are finished.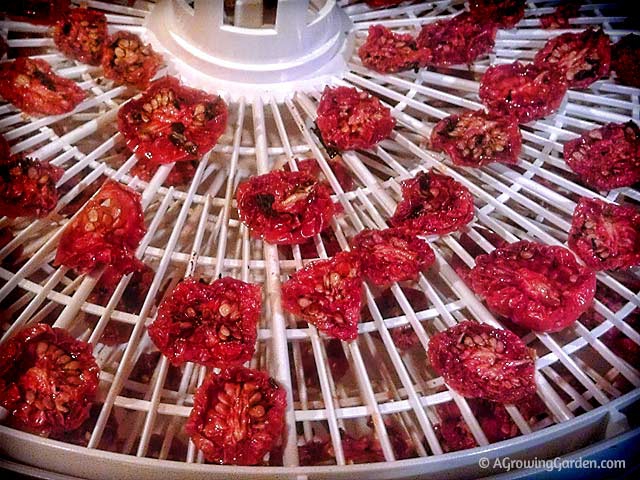 VOILA!
After about 12 hours, the tomatoes looked done. The tomatoes were chewy and still a bit flexible, but were dry, dry, dry. I removed them from the dehydrator and admired them for a few minutes.
OK, it may have been longer than a few minutes just because I absolutely love sun dried tomatoes, but I'm weird that way. Feel free to keep your adoration time to just a few minutes.
Then, since I hadn't eaten them all already (but boy, was I tempted!), I put them into a freezer bag and popped them into the freezer.
Dried tomatoes should keep in the freezer for about 6 months.
Yep, I now have potential culinary bliss just waiting for me in my freezer! Jealous?
*DISCLAIMER: Canning & dehydrating food can be dangerous and even deadly. If not done safely, your preserved food may become contaminated and could make you sick, or even kill you. The information contained here is not intended to be instructional, but rather an overview of the general procedures I followed. Always follow USDA guidelines & instructions for safe food preservation.
Oct 11 2013
More Articles You Might Like