1 Comment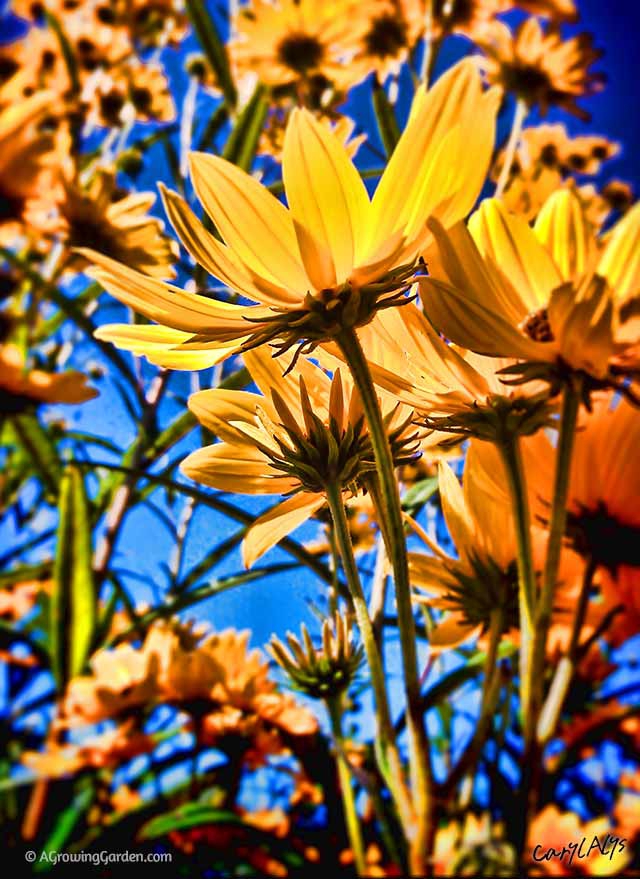 It's raining again today ... and it's supposed to rain tomorrow too. I'm bummed because I'm missing out on some great fall days to work in the garden. UGH! is there ever a lot to do this time of year, or what?
But, I'm more bummed about missing out on enjoying my Helianthus Angustifolius. It started blooming just this week.

Commonly known as Swamp Sunflower, Helianthus Angustifolius is a perennial wildflower that blooms for weeks on end throughout October.
It's bright. It's cheery. And it's H-U-G-E!
And I mean really huge. It's gets to be well over 10 feet tall in my garden. However, unlike Maximillian Sunflower (another tall, fall blooming perennial), Swamp Sunflower has woody stems and usually doesn't fall over. We did have an October hurricane a few years ago that knocked it down completely (along with just about everything else!), but usually it doesn't get floppy at all.
On each stalk it has what looks to be hundreds of daisy-like, golden yellow flowers that appear to glow & radiate against the (normally) clear, blue October skies.
I took the photo above last October ... aren't the flowers just stunning against the blue sky? And this year, the plants are even bigger and better! I'm really hoping the weather clears by the weekend so that I can spend some quality time with my Swamp Sunflower... we have a lot to catch up on. :-)
ps - My Helianthus Angustifolius print above is for sale at www.CarylAlys.com
Oct 10 2013
More Articles You Might Like