10 Comments
Once you are sure your hummies have gone for the season (boo!), you can safely bring in your feeders to clean and store for the winter. I haven't seen a hummingbird for a few weeks, so I finally brought in the feeders.
By this time of year, the feeders are usually worse for wear. During the summer, they get thoroughly cleaned every few days, but in the fall when the days are cooler, the sugar water lasts longer, and the number of hummingbirds dwindle, I guess I get a bit lazy and the feeders can get rather dirty. I'm embarrassed to show you how dirty they are, but here's what they looked like when I brought them in ...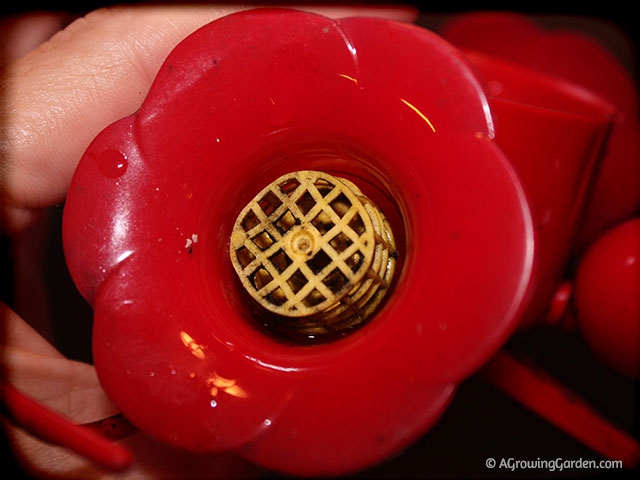 I know... YIKES!
Anyway, no worries. I cleaned them really, really, really well (there was bleach involved and old toothbrushes for scrubbing!) and they are now drying and will be ready to be put away soon.
I like to thoroughly soak and clean the hummingbird feeders before putting them away for the winter. That way, they'll be squeaky clean and ready to go the second I see my first hummingbird in the spring... you know, when I'm too busy jumping for joy and don't have time for cleaning them.
So, I clean the feeders with a bleach & water solution and then scrub them with a toothbrush and bottle brush. Sometimes I go this route during the summer too... it just depends on how dirty the feeders are. Sometimes they need bleach and scrubbing during the summertime, and sometimes not. But, for the final fall cleaning, bleach & scrubbing is essential!
Here are the cleaning steps I take before putting the hummingbird feeders away for the winter.
Step 1: Fill a large bucket with water. Add 1/4 cup of bleach for each gallon of water.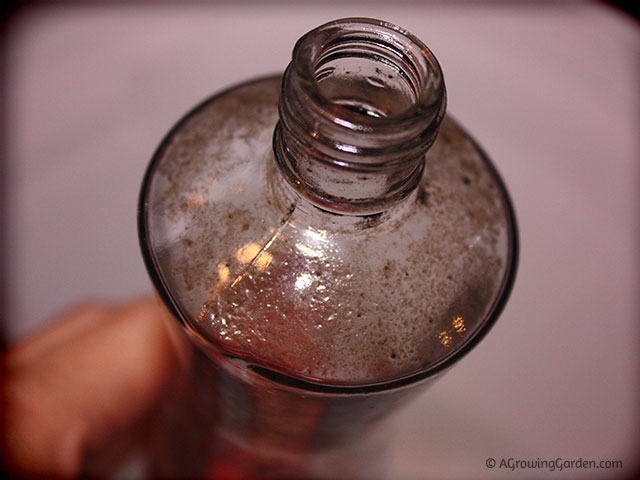 Step 2: Remove the glass bottle from the base of the feeders. Cringe at how dirty everything is. Place the glass bottles into the bleach solution.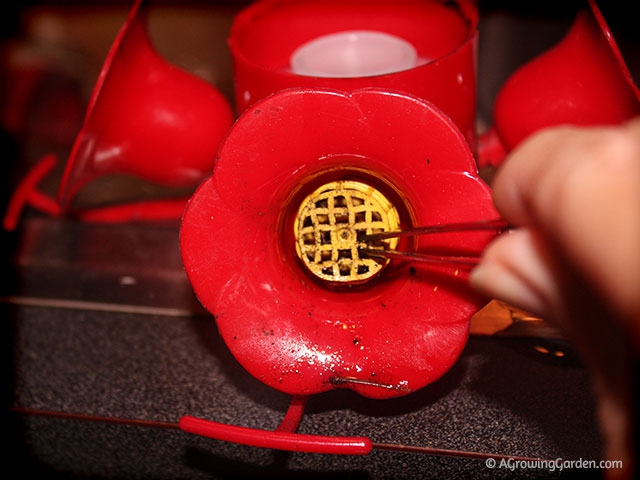 Step 3: Remove the bee guards if your feeder has them. I use sharp tweezers to remove the bee guards, but you can use your fingers too if you are super dexterous. Cringe again at how filthy the bee guards and the base unit are and vow to never, ever let the feeders get that dirty again.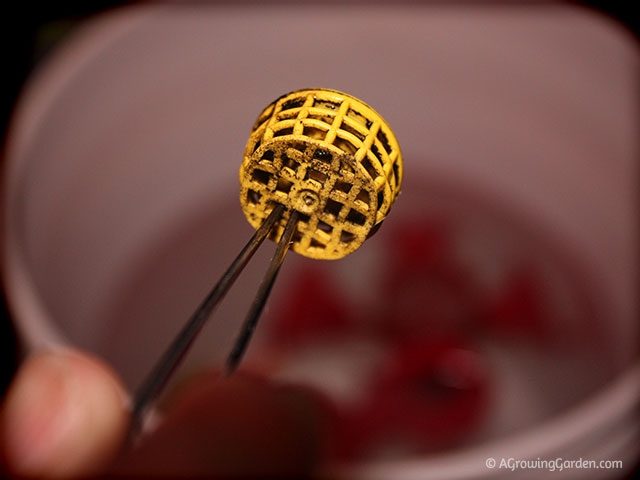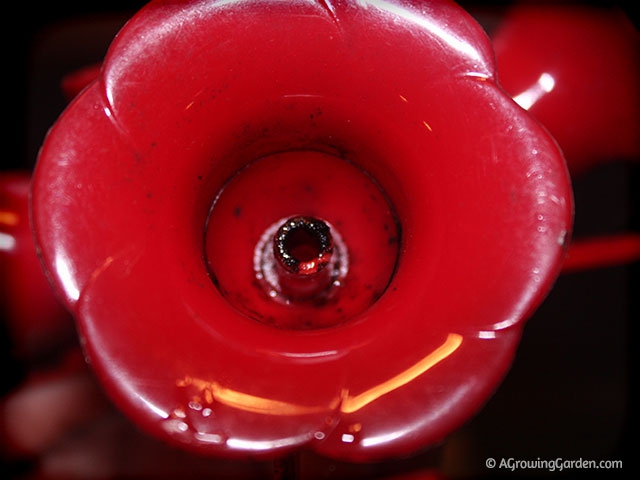 Step 4: Place the base units and the bee guards into to the bleach solution with the glass bottles.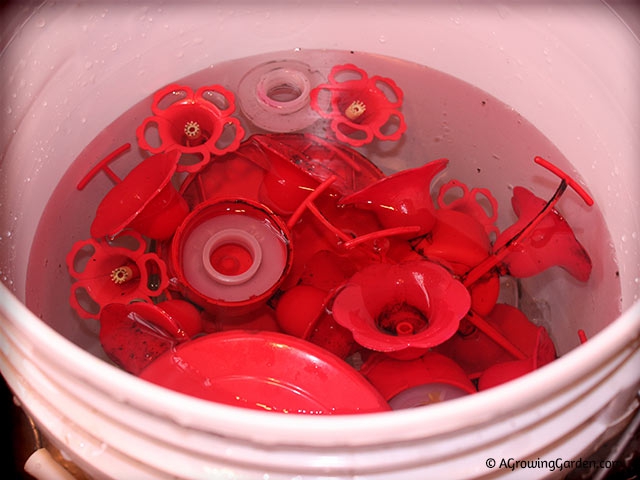 Step 5: Let everything soak in the bleach solution for about an hour. Go read a book or take a power nap. :-)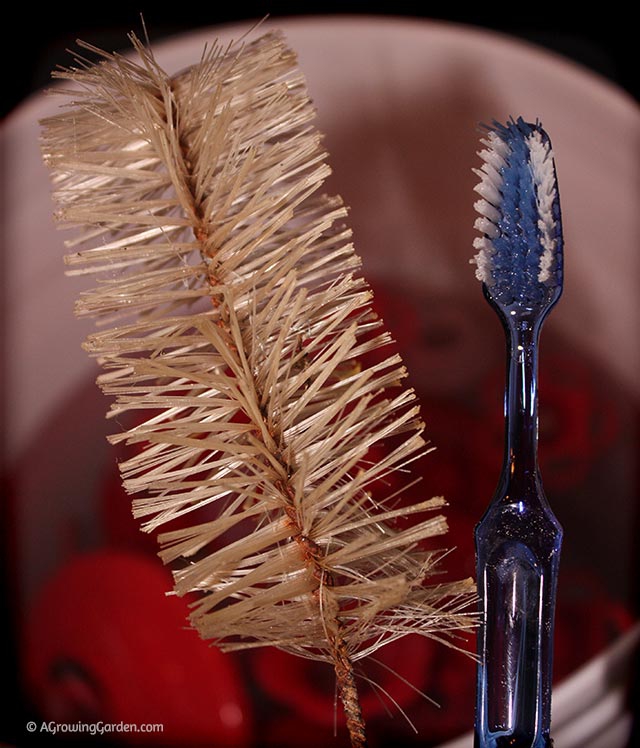 Step 6: Pull out a bottle brush and an old toothbrush and start scrubbing everything. Scrub. Scrub. Scrub. And keep scrubbing until all of the dirt and grime is removed. (*Note: this can take eons!)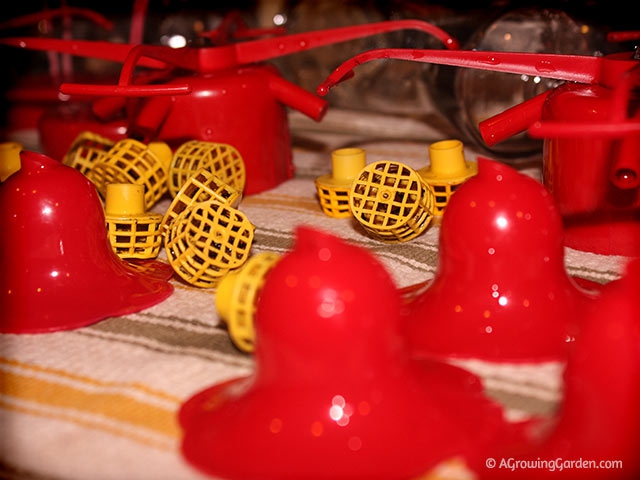 Step 7: Rinse everything really well with water.
Step 8: Spread all of the pieces out on a cloth to dry overnight. Admire how clean everything looks & pat yourself on the back. Award yourself further by eating a cookie (optional, but highly recommended).
Step 9: Once everything is dry, put all of the pieces into a paper bag, label it, and store for the winter. I reassemble the feeders before putting them away, just to be sure I don't lose any of the smaller pieces between now and next spring. Also, be sure to note where you eventually store everything ... last spring I spent a few hours looking for the feeders because I couldn't remember where I had put them!
And that's it!
It's always a sad, sad day when the hummingbirds have officially gone south for the winter. We're always sad to see them go, but if you get your feeders cleaned and ready for spring, you'll be ready for them the second they arrive again!
Oct 14 2013
More Articles You Might Like