1 Comment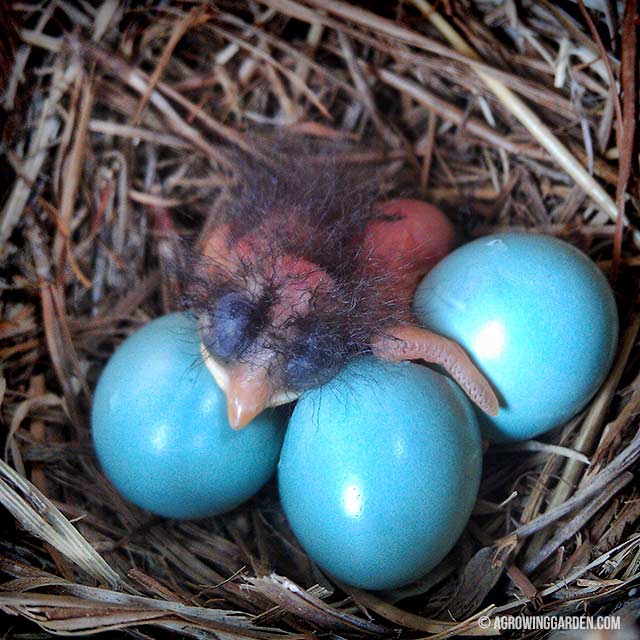 We've already had a full set of Eastern Bluebird babies hatch and fledge from one of our nest boxes this spring. I didn't get around to taking any photos of them, but those babies hatched, grew, and 'flew the coop' about a month ago.
After the babies left the nest, we noticed that the nest was just full of ants, so we pulled the nest out and cleaned the box, hoping to get rid of the ants. I think we were successful ... we haven't seen any more ants.
Another nest was soon built in the box and shortly thereafter I noticed 5 little blue eggs. I haven't really been paying too much attention to the nest -- just checking each morning and evening to make sure that we haven't gotten a snake caught in the netting we're keeping at the base of the pole the bluebird box is mounted on.
On a side note, we did catch a snake in the netting the other day -- luckily it wasn't hurt (or dead!), so we just got it untangled from the netting and put it in the garden to hopefully catch the voles we've recently noticed scurrying in and out of the mulch. The netting seems to really work to keep the snakes from getting to the bluebird nest -- but we don't want to kill any snakes (like happened once last year), so it has to be monitored daily.
Bluebird Babies!
Anyway, for some reason I decided to peek in on the nest this morning and 2 of the 5 eggs have hatched ... probably this morning. I snapped a few photos with my cell phone (taking photos in a tight spot like what is available in the nest box is super easy with a cell phone and I think I can get a much better view of the nest that way).
I thought this photo was funny ....
Jun 27 2014
More Articles You Might Like