2 Comments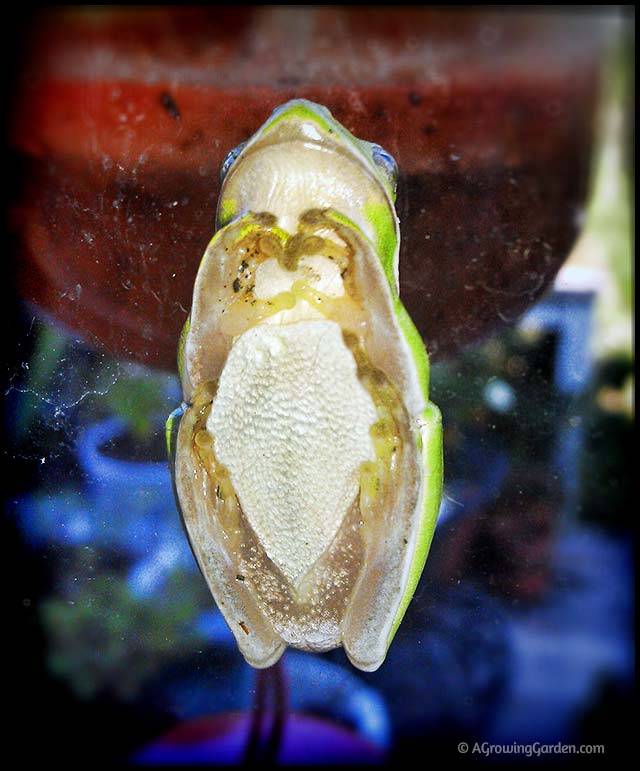 There's not much going on in the garden these days, so I've been amusing myself with all of the frogs I've been finding.
I know. I know. You're getting a little sick of all of the green tree frog photos. But I couldn't help posting this one ... I think it's hilarious!
This little green tree frog stuck himself to one of our (very dirty!) windows yesterday morning and he spent the ENTIRE day there. Every time I walked by, there he was - sucked onto the window. He was right at eye level for me (and I'm very tall, so that's pretty high)... I guess he thought it was a nice, safe place to spend the day. Or maybe he wanted to watch TV through the window?
I'm amazed that he didn't fall off. Being sucked to a window for over eight hours has got to be tough ... even for a frog!
Anyway, it's kind of hard to see in this photo, but it looked to me like he made a complete "seal" on the window with his body, legs and chin. There were no gaps that I noticed and his little chin (do frogs have chins??) seemed to be resting on his hands. I think he was about an inch long and he slept the entire day away like this.
Too cute!
Sep 28 2013
More Articles You Might Like