Comment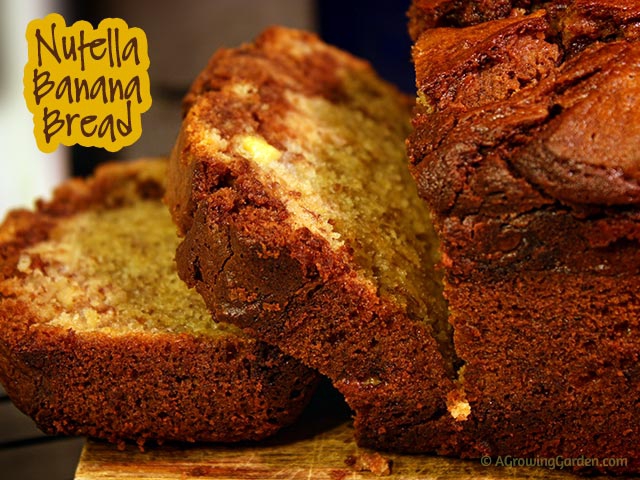 It MUST be fall because all I want to do is bake. And bake. And bake.
Have I mentioned I like to bake?
Especially in the fall?
Well, I do.
Have I also mentioned that I like Nutella?
Well, I do.
A lot. I'd probably sleep with a jar of Nutella under my pillow if it weren't so uncomfortable.
Anyway, as far as I'm concerned any recipe that contains Nutella is a good one. And that includes this banana bread. I've got a bunch of bananas just dying (literally!) to be used in something, so this Nutella Swirl Banana bread is on the menu for breakfast today.
You should give it a try ... it's totally yummy! Here's the 411 ...
Nutella Swirl Banana Bread
Ingredients
2 cups all-purpose flour
3/4 tsp. baking soda
1/2 tsp. salt
1/4 cup unsalted butter, softened
1 cup sugar
2 eggs
1 1/4 cups ripe banana (about 3 medium bananas)
1/3 cup milk
1 tsp. vanilla extract
1/2 cup Nutella

Instructions
Preheat oven 350 degrees. Grease and flour an 8 inch loaf pan.
Sift together flour, baking soda & salt in a medium sized bowl. Set aside.
In a separate mixing bowl, beat the sugar and butter until blended & creamy. Add eggs, one at a time, beating well after each addition. Add banana, milk and vanilla. Beat until everything is blended nicely.
Slowly add the flour mixture, and mix just until flour is incorporated (do not over mix).
Spoon the Nutella into a small bowl and soften it in the microwave for about 15-30 seconds. Add 1 cup of the banana bread batter to the Nutella and stir until blended well. Spoon the Nutella batter alternately with plain banana bread batter into the prepared pan.
Swirl batters together with a knife until you have something that looks like Van Gogh's 'Starry Night' (*kidding* -- just swirl it until it looks nice and, you know, swirled)
Bake 50 to 60 minutes or until a toothpick inserted into the center comes out nice and clean.
Cool for 15 minutes and then turn out onto a wire rack to cool completely.
Pour yourself a glass of milk and enjoy!
Sep 20 2013
More Articles You Might Like