Comment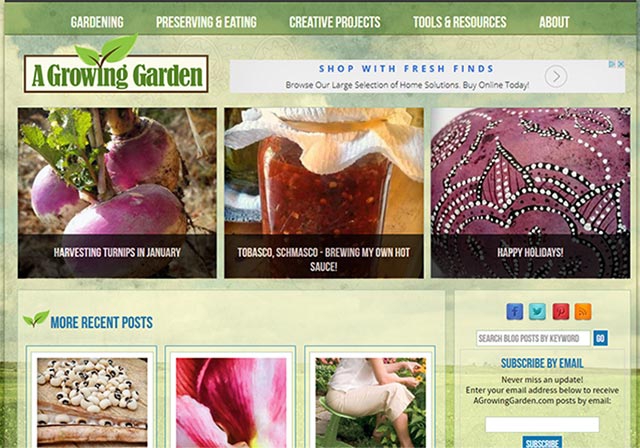 As some of you may know, I spend most of my time during my "day job" designing and developing branding, advertising, and marketing campaigns (including many, many websites!) for companies and organizations across the US. As such, I don't always get around to making timely updates and changes to the design or programming on my own websites ... after all, after spending all day working on someone else's projects, the last thing I often want to do is work on more of my own.
But! I've been diligently working on some updates to AGrowningGarden.com during the last month or so and have finally gotten around to posting a much needed "face lift" to this website.
Even though many websites start to look outdated within a year or 2 of launch, I still liked the overall look and feel of the "old" website and tried to keep some aspects of it. I did make some enhancements to the design though and added some new functionality too.
The biggest design change is that the website design is now completely responsive -- meaning that it adjusts automatically to the size of the screen it is viewed on and should look and function fantastically on screens ranging from small iPhones and smart phones to very large computer screens (and everything in between!).
I've also added some new functionality including a completely new (and rather large) section under the Resources tab that includes growing guides for most types of garden vegetables. So, if you ever need to look up how to grow peppers or lettuce or okra (etc! etc!), it's a great place to start and will tell you everything from when to plant the seeds to the preferred pH of the soil.
I'll be continuing to add new functionality to the site and hope to add some new sections this spring too, but, in the mean time I'd love your feedback on the site! And, of course, if you notice any glitches or problems, please let me know too!
Jan 18 2015
More Articles You Might Like