Comment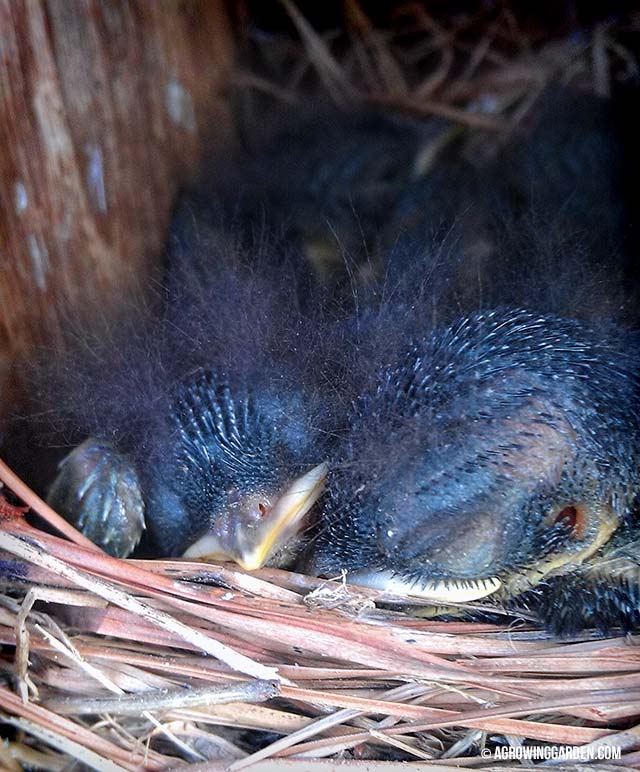 This has been a very good year for our bluebirds. Our third set of babies from just one of the boxes hatched last week and are growing quickly. All of the clutches we've had this year in our boxes have hatched, grown, and successfully fledged, so I guess we've finally perfected our method for keeping the babies as safe as possible while in our bluebird boxes!
As you might remember, last spring we had a very disturbing situation with our bluebird babies and a hungry black snake (here's the full story about that). We set out right away to find a better, safer solution for the bluebird nest boxes -- one that helps ensure the baby birds will be safe while in the nest, but also doesn't hurt snakes.
We immediately pulled the problem bluebird nesting box off of the picket fence it had been attached to, mounted it on top of a long, thin metal pole, and put it out in a meadow-like area. We then mounded some mesh deer netting at the base of the pole to help ensure that snakes couldn't climb the pole and get to the nest.
We absolutely don't want to kill any snakes, so we check the netting at least twice every day to make sure no snake has gotten caught or stuck in the netting. The deer netting we use is black PVC mesh and has 3/4" inch openings. Snakes get easily caught and very tangled in mesh deer netting. If not found quickly and freed, they will die.
The only issue with this type of set up is that often times we (and by that I mean my husband ... yes, I'm a big chicken) have to delicately cut the netting to free the snake. He uses a teeny-tiny set of scissors on a small swiss army type knife to do it (regular scissors are too big and bulky). We think that cutting the netting is a very small price to pay to save the snakes, which are fantastic for killing rodents and other critters we don't want in our garden!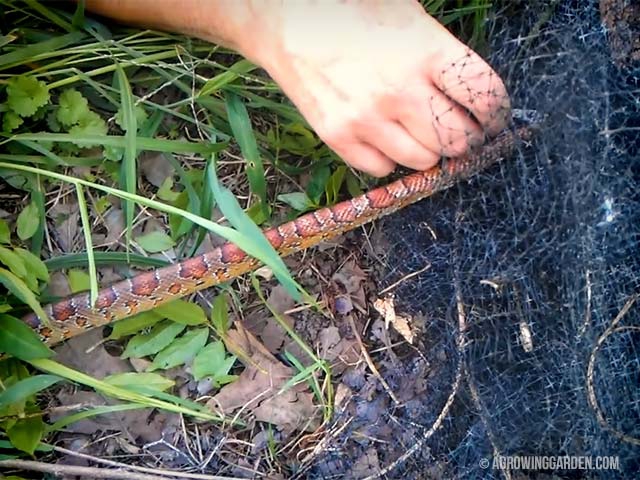 So far this summer, we've caught 2 black snakes and 1 red corn snake in the deer netting at the base of the bluebird nest pole. (The red corn snake (above) had it's tail wound tightly around the grass and weeds behind it and was desperately trying to pull itself out from the netting. You can see in the photo how tight his body was from his pulling!) We found all of the snakes in time to save them (yea!) and, after carefully cutting them from the netting, we released them in our vegetable garden.
Aug 08 2014
More Articles You Might Like